* first of all if you could give a small introduction
of you, your work and how it all began for you
My name is Juri Ueda (a.k.a. Juriu,) I am an artist in
Osaka, Japan. I paint watercolor illustration of girls
with big eyes in mythical world.
I was born in Japan, grew up mostly there and a few
years in Thailand, with no particular interest in art.
After many failed faint childhood dreams - such as an
astronaut, a psychologist, and a biologist- I started
drawing, and graduated from the Academy of Art
University, San Francisco in 2005.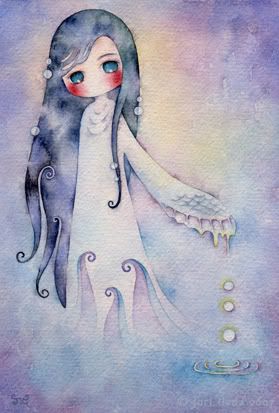 1) What is your work about? Are you rather a story
teller with your paintings or sharing your own
emotions in them?
My art is all about personal communication. Painting
for me is like writing letters - letters with colors
to express emotions.
I consider myself a storyteller, but I like to keep
the story ambiguous. I may tell the beginning and the
end of the story in one image. I enjoy getting totally
different responses and comments from the people who
see the same painting.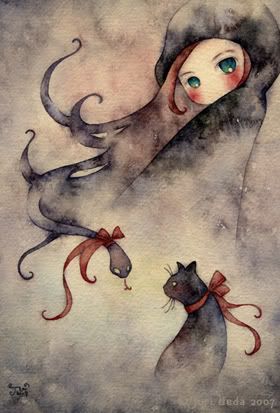 2)Who are some of your muses/mentors, where did you
find your inspiration?
It is hard to say who are my muses. I paint the girls
from the impressions I get/got from the real life
people I know/used to know. My biggest source of
inspiration is nature - the sky, the ocean, and
flowers. I can spend hours just looking at colors in
the clouds, or the patterns on the surface of the
water. And since I happen to live with a flower
designer, my life is surrounded by flowers, and I
watch them change as they live and die. The beauty in
nature can be so perfect and transient. It fascinates
me and makes me want to try to keep a fraction of it.

3)I have seen you also do abstract, is it a way to
complete your artist work/path or just not to get
bored and try different things?
Although I majored in illustration, last few years in
art school I spent most of my time working on
large-scale mixed-media abstract pieces - and that is
how I started my career as an artist. The first time
when I knew what art meant for me was when I painted
my first abstract - my teacher said to me, "seems like
you have found your language."
Compared to illustration, abstract is more purely
emotional and freeing for me, even though the process
is more challenging. The experience is so special I
cannot get from anything else.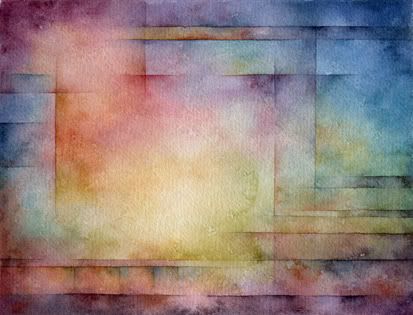 4) you have published a book can you tell about it,
where can we buy it, what is it about etc?
I have not exactly published a book - it (UZUMAKI) was
for a local hand-made picture book show. The theme of
the show was "birthday." My book is about a girl who
lost her wings and her re-birthday. The title UZUMAKI
means "swirl" or "spiral" in english. It is my
favorite symbol, which means "change" among other
things. The book is available upon request at an art
store called ART HOUSE in Osaka.
5)How do you proceed when you begin an artwork? do you
have any ritual, are you rather spontaneous, or think
a lot about themes, series, projects?
I do not think much about themes and such unless they
are the purpose of the painting.
I do not plan in details about shapes and designs
either, but I cannot even start doodling in my
sketchbook until I know exactly what I want. I admire
the artists who can doodle naturally and beautifully
as if the lines flow from their hands.
I am very spontaneous when it comes to colors. I
barely think about palette until I have everything set
up and a brush in my hand. That is the most exciting
and fun part of making a painting for me.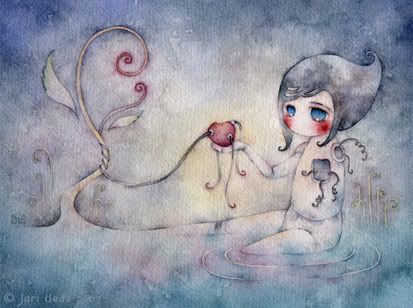 6) what are your next important projects?
I am planning to have my online shop. Hopefully it
will happen within this year :)

7)if you have ever exhibited your work, tell us about
the first time? how is it ?how did you feel?
I had my first solo show last July. It was not a big
financial success, but quite an exciting experience -
very different from showing in group exhibition. I got
a good lesson about the harsh reality of having my own
business and the responsibility that comes with it, as
well as the pleasure of meeting new people. Overall I
found it addictive. I can hardly wait for the next
time.

8)I have seen you are a writer too ,it's really lovely
and inspiring too, why do you write? is it for you
another way to paint with words?
what inspires/pushes you to write?
I think writing is my first response to my feelings.
If my illustrations are letters, my writings are
diaries. It is rather easy to create images about a
pretty flower or a sweet scent I just happened to come
across, but when I have a deeper connection to the
subject, I need some time to distance myself from it
until I can process it into the image I want to paint.
So I take quick notes in words about the incident, the
person and the emotions, so that they will not fade
and buried into my everyday life. I believe that the
essence is in the details, which are so easily
forgotten no matter how precious and often painful
they are at the time.

9) your art is like sweet melancholly is it for you a
way to heal your big sensitivity or something else?
I am very nicely surprised to know that you see my art
that way.
My paintings are personal, insignificant and awkward.
Especially with my illustration, I always like it to
be subtle and whimsical, with some sense of hope and
wishfulness, even though it usually comes out of
sadness and loneliness. Painting may be a process of
my healing.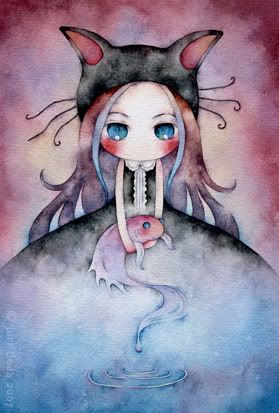 10) what kind of music do you like to listen to when
you create?
I listen to heavy-metals, pop-rocks to mainstream
classicals and operas. I like anything catchy and
emotional. I also like to keep the TV on while I paint
- I find the sound of people talking comforting. I
have the fear of silence when I am alone, although I
prefer silence when I am not alone.
11)how would you describe yourself in a few words?
A solitary optimist with a stubborn wandering mind.
12)what is your motto or favourite quote?
My motto is "KOUN-RYUSUI" which is a zen word meaning
"like clouds that float, like water that flows." I
hope to create and live my life simply and naturally.


Here are two writings by Juri Ueda:

"anemone"

a flower thief stole an anemone.

the translucent blue violet
dark
burning

transient

but
exciting and beautiful.

I know you want it
he smiled

in the middle of the wind
swaying in every direction

I love your freckles
he says.


"remembrance"

the endless beach
and the footprints our bare feet leave behind
green water
silver bubbles
and the shapes waves draw on the sand

the afternoon about to evaporate

impulsive and abstract
like a drop of ink
absorbed into paper

memories fade
always incomplete

the pictures we did not take
the color of hair that has changed
if you don't remember
how will I know
that I was here

the endless beach
and the footprints our bare feet leave behind
the vibrant sun
the ocean and grass scented wind
our distant oblivion
if I could
never let go of your hand

I am here now
I am here with you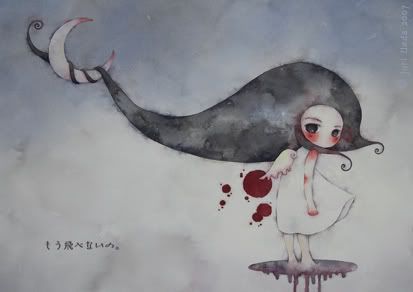 visit her etsy shop there:
Etsy
visit her website here:
Juriu website