Mary ann is a beautiful soul that paint with the colors of her emotions, her secrets.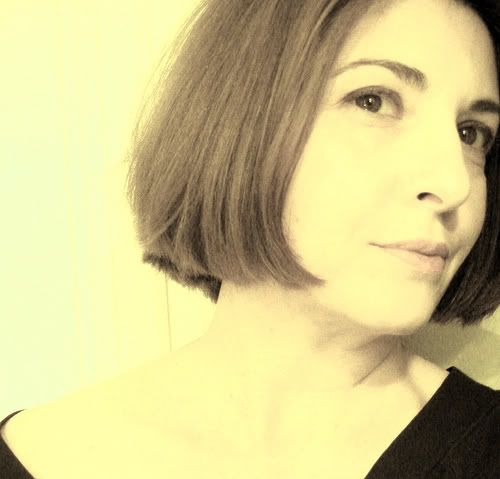 That is what I sense in her work : the secrets, because you can interprete abstract the way you want to read it, she keeps her mysteries of how the piece is born:)
I adore her choice of colors, it really touches me and most of her work grab me at once.
I feel I can enter those luscious realms and find something for my soul.

She is one of my favourite contemporary abstract artist and I am lucky to know her and consider her as a generous, open minded kind very supportive and sharing friend,so I wanted to share her work with you.

Why did you choose abstract as a means of artistic expression? Or was it abstract that chose you?
In the beginning, when I first started to paint on canvas, I painted still lifes and some portraits of family. But I did not enjoy it, and often it felt labored—not fun. I truly admire all forms of expression, but I am best able to express myself using abstract methods, and this is the way I have been painting since 2004.

Do you link colors to special emotions when you paint? So what do they mean to you?
I do believe that on a subconscious level I associate colors with moods, feelings and emotions. I am never "down" when I paint, therefore, each piece is created with a good feeling. I do not paint dark moods…. In fact, painting lifts me out of dark moods. I become unhappy when I am not expressing myself through art. Art is what has saved me from continuing down the former path of work for a paycheck at meaningless and unfulfilling jobs.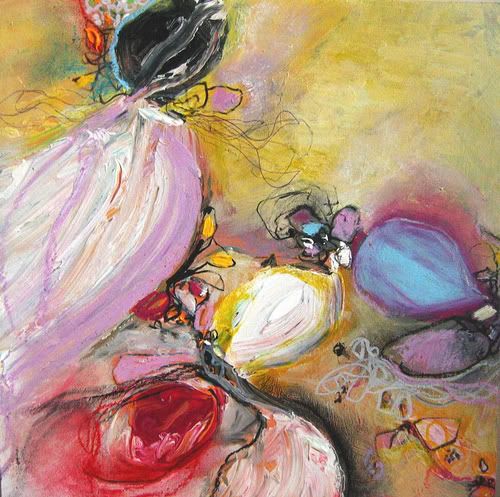 I love all colors, especially pink and green which calm me. When I am feeling particularly expressive I use shots of strong color. In a more sensitive mood I may use lighter lines and more subdued color. I like drama and will frequently use black to set off brighter colors.

How do you begin a work? Is it all planned or do you improvise? Can you share with us the process?
First of all, I am not in planner!....in anything, for that matter. I fly by the seat of my pants always. I start with an idea for a painting, like a color, but even then, when I am putting the paint down and moving it around with other colors, if it doesn't feel right at the moment, I change it.
The whole process of making a painting from beginning to end is one of editing, trial and error, not being afraid to mess it up, especially if I like the way a particular area looks, I try not to preserve it while working around it. This approach makes painting fun, free, and full of possibility. I do not try to control anything but let it happen as I go, always editing by moving color around with a brush or knife, or my finger, switching from acrylic to pastel, and blending the colors sometimes dry into wet, sometimes dry onto dry paint, sometimes wet into wet (no rules) just spontaneous. During this process, as long as I am in the spirit of creativity, I am hearing silent prompts within that gently guide me to pick a color or material. This is how it works, and why the paintings are usually so harmonious—they come from that place of harmony that leads me to it. If on the other hand, I start feeling tired, or I get irritable and begin to fight what I am doing, I stop and take some kind of break…. I'll read, or walk the dog, or go outside, or cook (!)… just something else entirely that I enjoy doing. I never force myself to paint, but usually it is not a problem for me to get to work.
Did you ever have those struggling moments and the feeling you could have given up your artist path?
I have had moments when I have questioned how much time I want to devote to making art. I have never thought I would give it up completely…. I made a commitment to myself several years ago that it was this or bust! But I have a healthy attitude about what I do. I know that it does not define me. It is simply something I do that I enjoy and the others enjoy too, so because it is such a pleasurable activity, I choose to continue doing it. I can see myself being creative in other ways too, though, as in being a promoter for artists or creativity coach, or in helping people decorate their homes. I love to help people find new and beautiful ways of seeing different things whether it's in art or a living environment. I am definitely an aesthete and my path will always have something to do with beauty, order and harmony. Right now, I am enjoying making art.
How is it to lead a business as an artist? Do you have any advice for other artists?
This is not an area of expertise for me. I make and sell art, but from a business perspective, there could certainly be improvement. I don't use a business plan, and don't budget. Again, it's the fly by the seat of my pants approach here. I try to be reasonable in my expenses and am ever resourceful in creating the best art I can with the materials I have on hand. I always make a profit, but my goal is not to label my success by the bottom line. My success is gauged upon how happy I am overall. My only advice for other artists, is to trust your inner urge to do or try something. If you are happy and want to be successful pursuing art, then be happy while you are engaged in the making and selling of your art and you will experience happy results. Don't get caught up in reaching specific goals. Just trust that what you are doing is right for you and let your universal manager handle the business details. Keep processes simple…. don't complicate the day to day, moment to moment experiences by being down and letting the externalities of life seep into making your art. Don't be afraid to try new venues for selling, but also don't overwhelm yourself with the selling part so that you are too exhausted to create. Focus on the making, and the selling will naturally flow.

What king of music takes company to your paintings? Develop if you can with examples of artworks and why they are related to this or that music.
I listen mostly to women artists, but I like all kinds of music. If I had to choose specific artists that have accompanied the creation of most of my work, I'd probably say Tori Amos. She has had the strongest influence in terms of a singular artist providing the background music while I paint. I have always loved her voice and having played the piano for several years myself, I related to her style of piano playing, as she studied classical for a long time before she found her own style.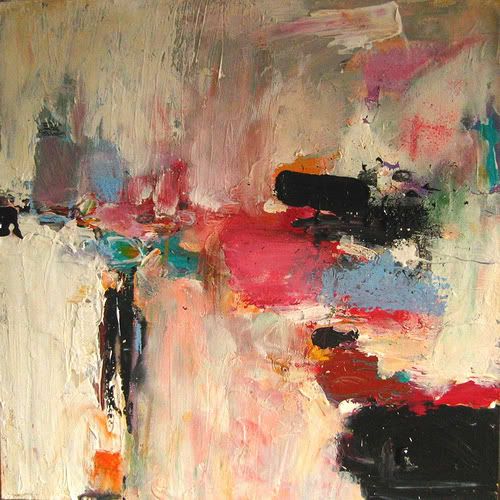 I can not look at any one piece of work and tell you what I listened to while I painted it. That part of the process does not leave a residue with me. I see only what is in front of me… nothing else.


What other talent would you have liked to have if you hadn't been a painter?
I like change so much that it would be difficult to consider anything outside the creative field. I value my solitude so I am best suited to working alone most of the time, and it would have to be something where I have complete freedom of expression and the ability to do things as I feel them. Outside of being an artist, I don't know what that would be.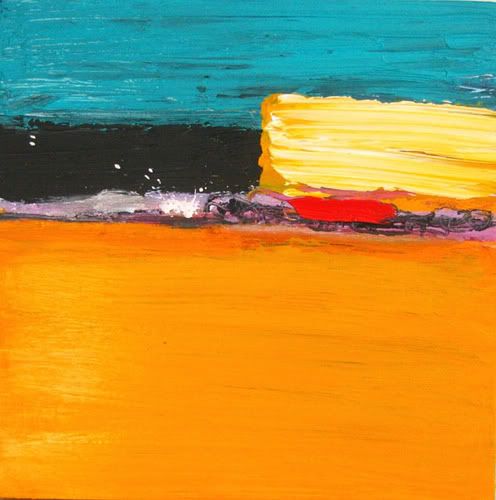 see more of Mary Ann's work here:
her flickr
visit :
her blog